Update Your Bath with a Bathroom Renovation
Work with the Bathroom Renovation and Design Experts in Victoria, BC!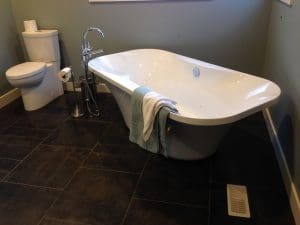 A bathroom renovation or remodel can provide more storage space, improve the flow and even increase the energy efficiency of the most frequented rooms in your home. So clear the clutter from your bathroom countertops and start thinking about a bathroom remodel today!
Your bathroom is an essential room that should be inviting towards guests and rejuvenating to us as the place where we get ready to start and wind down the day. However, bathrooms are normally one of the smallest spaces in the house, so getting help choosing bathroom designs that balance beauty and function is where we come in.
No matter if you are contemplating a simple upgrade or a total bathroom remodel, our expert contractors have decades of experience helping clients with bathroom renovations in Victoria, BC. Our bathroom renovation contractors have plenty of experience for any bathroom project you need, including:
     Bathroom design & renovation ideas

     Bathroom countertops

     Bathtub remodeling

     Shower doors

     Bathroom sinks

     Bathroom fixtures

     Heated Floors
     Wall and floor tile
Add Value to Your Home
Our team has assisted countless bathroom renos for clients looking to transform a lackluster bathroom to a luxurious oasis. We've worked with home owners who have wanted to change their bathroom from a small closet powder room, to framing a whole new bathroom out of a space that was barely used. With the value of homes on the rise, adding in a second bathroom is worth every penny!
If you're considering making a change, we would love to be there to help plan your next bathroom renovation. Our contractors can help you take bathroom renovation ideas of any scale and deliver a quality finished product in the time and budget that meets your expectations.
Check out full project details and photos at Houzz or contact us today for a free bathroom consultation!