Bathroom Renovations in the Heart of Victoria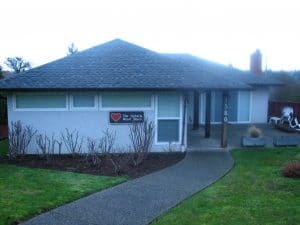 The Victoria Heart House is a Bed & Breakfast style accommodation for patients and families who are in need of pre-op or post-op treatment at the Royal Jubilee Hospital.  The house has provided a comfortable and welcoming environment for spouses and families of patients undergoing open heart surgery and other cardiovascular procedures.
As a non-profit organization, the focus of the Heart House was to provide a "home away from home" to it's guests, but was in dire need of some upgrading. The bathrooms were going to get a makeover! The challenge? The Heart House had a tight timeline. It would close for two weeks to allow for renovations but would need to open again immediately to satisfy the needs of patients and families.
Because of the year the house was built, we needed to have asbestos samples tested before beginning the tear out. Any home built before 1990 must have materials that are being disturbed tested. When test results came back negative we were ready to go! Part of our safety policy is to make sure all hazard assessments, contracts and test results are posted before entering the construction site. With four bathrooms, this turned out to be quite the safety wall!
Let the Renovation Begin!
We started out with the Victoria team going full tilt to remove all of the old fixtures, flooring, vanities and lighting. Fortunately there were no hidden surprises when we started to remove the old tubs. Mold is a common issue in a climate like Vancouver Island. With no mold removal or remediation required, we were on a roll!
As the project progressed, less of the crew was needed as we were right on schedule. It's funny how quickly we forget what the 'old' looks like when we see the 'new'. The access to the showers has improved for the people staying in the Heart House who have mobility issues, and inserts into the shower walls help eliminate the need to bend over with potential to slip and fall. More than anything the Society was pleased with the timeline, results and of course, the comfortable atmosphere of the new bathrooms.
Thank you to the Heart House for your trust in our ability, workmanship and people. It was a pleasure to work in your home!
Bathroom 1
[fusion_builder_container hundred_percent="yes" overflow="visible"][fusion_builder_row][fusion_builder_column type="1_1″ background_position="left top" background_color="" border_size="" border_color="" border_style="solid" spacing="yes" background_image="" background_repeat="no-repeat" padding="" margin_top="0px" margin_bottom="0px" class="" id="" animation_type="" animation_speed="0.3″ animation_direction="left" hide_on_mobile="no" center_content="no" min_height="none"]
Bathroom 2
Bathroom 3
Bathroom 4
[/fusion_builder_column][/fusion_builder_row][/fusion_builder_container]